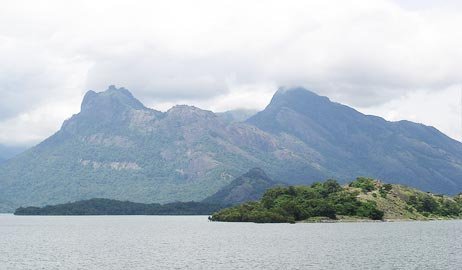 Being nurtured by Kerala's longest river, the Bharathappuzha, Malampuzha is blessed with lush green foliage and has been acclaimed as one of the most attractive tourist spots in the district of Palakkad, Kerala, India. It offers a variety of amusements with its natural and artificial amalgamation. The charm of the natural beauty and the creativity of the human mind make the people admire its wonderful works and mould ones' mind rosy.
Malampuzha, a little township on the foothills of the Western Ghats, is located 10 km from Palakkad town and has in store a large number of amusement options - The Malampuzha Gardens - A fresh water aquarium( fish-shaped )- A snake park - A children's park - A Reservoir - A Garden House - A Japanese Garden - Hanging Bridge - Sculpture of Yakshi - Ropeway - Road Train - Telescopic Tower - Rock Garden - Fantasy Park etc.
Malampuzha is a mini hydoro-electric project built across Malampuzha river (a tributary of Bharathapuzha) in Palakkad district of Kerala, South India. It is also the biggest irrigation project in Kerala with a large network of canal systems. It is also one of Kerala's major tourist spots. Malampuzha dam, the biggest irrigation reservoir in Kerala, is celebrating its Golden Jubilee year in October, starting with Tourism Week and Onam celebrations in September.
Malampuzha Dam has brought prosperity to the district, making Palakkad the `rice bowl of Kerala'. Paddy is cultivated in 50,000 acres (200 km2) in two seasons each using waters from the Malampuzha dam. The Malampuzha Garden and reservoir have a scenic setting with the forested hills of Western Ghats forming the backdrop, making it one of the foremost tourism centres in the State.